October 26th, 2007
Ajax Experience 2007 East is done. Another great show with really great content and really engaged attendees.
The final day started out with a keynote from Aza Raskin of Humanized fame, who among other things highlighted the Endless Pageless pattern that fellow Canadian Pete Forde talked about in an article last year.
I gave my Ajax Transport Layers talk to a modest yet receptive audience.
Doug Crockford's JSON talk was up to his usual standard.
In the afternoon there was an animated panel discussion on Ajax Futures, with John Resig from Mozilla, Andre Charland of Nitobi, Douglas Crockford and Aza Raskin.
Kris Zyp followed with a great talk on Advanced JSON. Some of the JSON-RPC stuff he talked about was very similar in concept to the Jester stuff covered by Pete and Eric yesterday. I have to say that Kris strikes me as the one guy who deserves the "smartest-guy-of-the-conference" award.
Here is a pic of the Ajax Experience Canadian speaker contingent – left to right: Andre Charland and Dave Johnson of Nitobi, and Pete Forde of Unspace.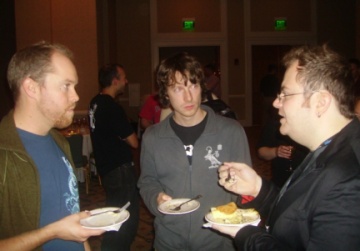 And here's a picture of yours truly, with my new t-shirt from The Dreaming. No relation, honest.